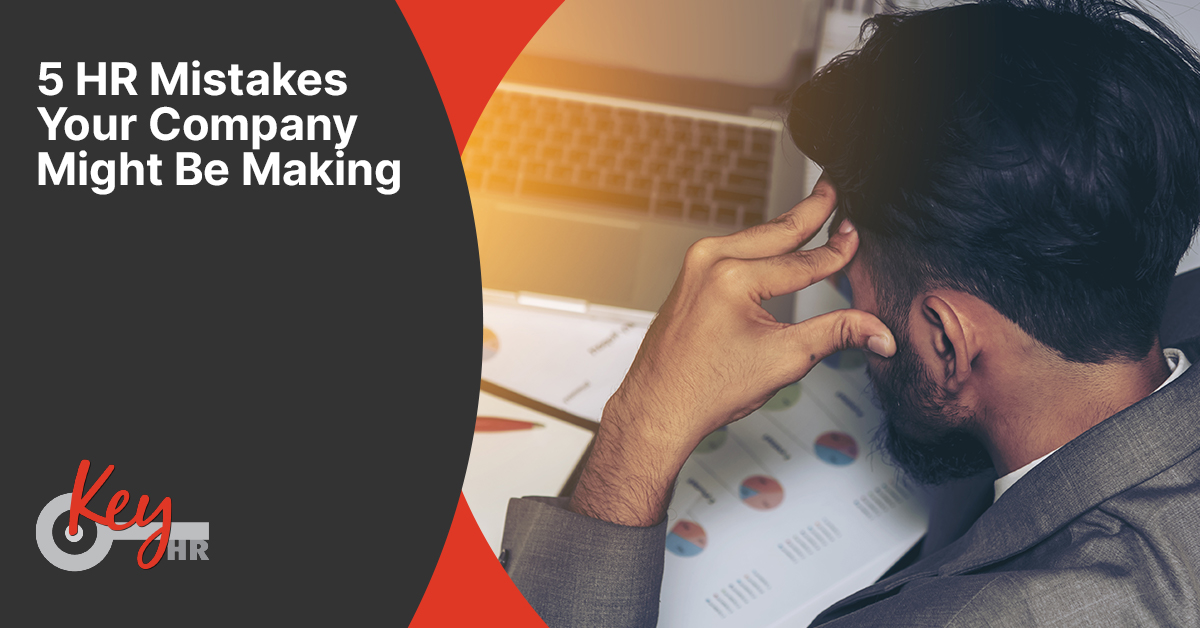 Nobody – or no HR department – is perfect. Inevitably, mistakes happen. This fact is more understandable than ever in today's fast-paced, dynamic, and, especially in light of Covid-19, more remote, scenario. But, it goes without saying that you want to keep mishaps to a minimum, in order to avoid the financial and other negative fallout that may result.
Being aware of some of the more commonly occurring HR errors can help you steer clear of them. Here are five:
5 Common HR Mistakes Companies Make
Flawed Hiring and Firing Practices
Whether it's sealing the deal with a new hire or the opposite end of the spectrum: terminating someone or accepting their resignation, you want these processes to be well thought out, consistent, and rock-solid.
Make sure every one of your job descriptions is accurate, complete, and up to date.
Recruit and hire from within, as well as externally.
Don't cut corners in order to speed up a hire. On the flip side, don't prolong the process any longer than necessary.
A Flawed Onboarding Process
This is another area where taking shortcuts may help in the short term but can have devastating long-term implications. Poor onboarding is one of the leading reasons significant percentages of employees quit within the first several months after being hired. Make sure new hires feel part of the team and know as much as possible, as soon as possible, about their new work environment, colleagues and culture.
Schedule meetings with people they need to meet, right up front.
Give them a tour.
Fully prepare their workspace before they arrive.
Consider a buddy system or mentor program as part of your onboarding strategy.
Employee Misclassification
If you misclassify an employee in your system, it can affect their pay, benefits, and other critical metrics. Always make sure employees are properly classified as either hourly, salaried, part-time, full-time, exempt or non-exempt.
Definitions for classification should be outlined in your employee handbook. Additional guidance is available from the U.S. Department of Labor.
Shortfalls in Compliance or Safety Training
It's key to not only know and stay current with all employment laws and regulations but also to communicate any relevant changes or updates to your employees. The same applies to safety standards and protocols, starting with those defined by the Occupational Safety and Health Administration (OSHA).
Playing Favorites
There's no place for favoritism in hiring, discipline, or any other employment-related decisions, as inevitable as it may be to bond more with certain people than others in your role as an HR professional.
Refrain from socializing with employees to the exclusion of others, inside or outside work.
Accurately and fairly evaluate all employees from a non-biased perspective. Take care to learn as much as possible about and avoid unconscious bias.
Looking for HR Solutions? Key HR Can Help!
As your go-to source for comprehensive HR solutions and guidance, Key HR is aligned with preferred provider companies to offer you innovative ways to meet all your talent management needs. Read our related posts or contact us today to learn more.

Posted by Blog21
On July 14, 2021
0 Comment