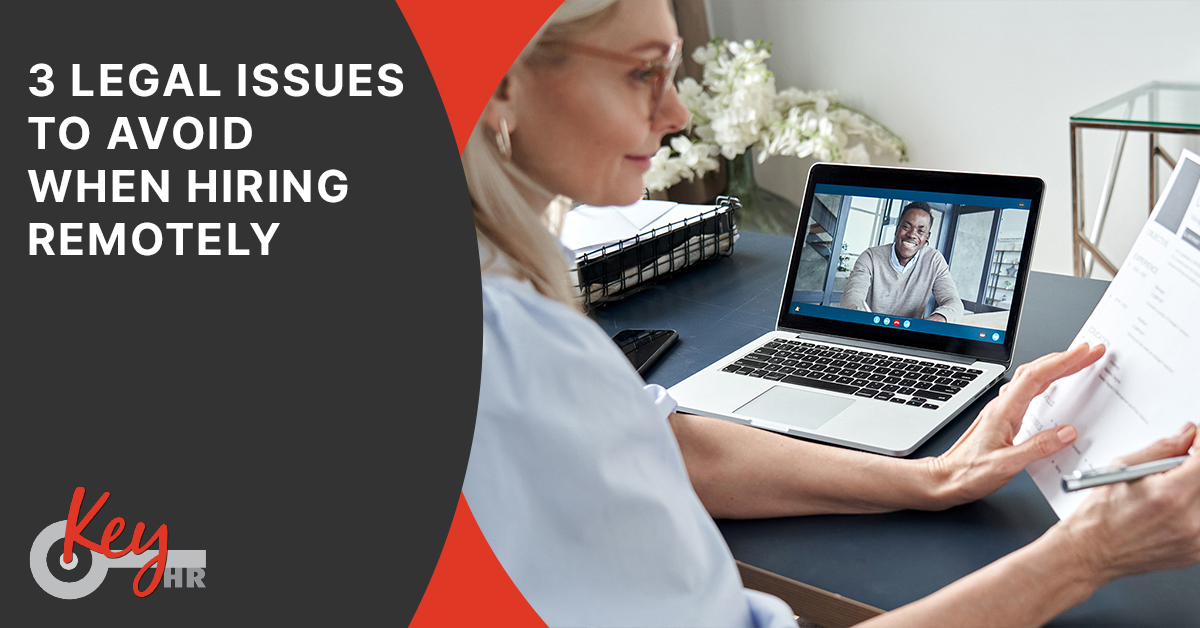 In this new, nearly-post pandemic world, much has changed, including how companies hire and onboard new employees. As is also true in many areas, some of the adjustments made during the past year have actually proven beneficial, so much that they may remain in place even after the crisis has completely passed. For instance, remote hiring gives employers easy, inexpensive access to talent worldwide.
But, there are also risks, which you need to be aware of and avoid when recruiting and hiring remotely. They include:
Remote Hiring Legal Risks All Businesses Should Be Aware Of
Noncompliance with Employment Notice Requirements
Be sure your company is in compliance with requirements to make certain employment notices available to prospective hires, even in a remote recruiting environment. These include those that pertain to the Family and Medical Leave Act (FMLA), the Fair Labor Standards Act, the Employee Polygraph Act, and the Uniformed Services Employment and Re-employment Rights Act.
Also, the Department of Labor recommends including a notice stating that job applicants have rights under federal employment laws, and adding links to related posters.
You also need to stay current on individual state laws regarding job postings.
Violations Related to Remote Interviews
In addition to requirements in certain states to ensure candidates know they're being recorded during an interview, you also need to consider the potential consequences if an interview goes awry and an applicant later shares it online. This could lead to costly damage to your reputation as an employer or even a lawsuit. You may want to:
Have candidates sign a nondisclosure agreement and/or agreements stating they will neither record nor publish their interview anywhere.
Train all interviewers on appropriate tactics and acceptable questions and ensure they stick to a script. Also, have them complete anti-discrimination training.
Security and Privacy Threats
Are proper cybersecurity measures in place at your company? All HR professionals should follow best practices to secure confidential information during remote hiring, just as they would otherwise. For instance:
Conduct all interviews in a secure video/phone conference app and instruct applicants to join only from a private network.
Use secure digital apps for any job offers or employment contracts.
In addition, be mindful of how your business shares sensitive information with remote candidates. While they can't always hold you liable for a data breach, your company may face a legal battle if an investigation reveals that such a breach resulted from negligence or that you failed to inform someone that their data was compromised.
Compliance Headaches? We Can Help!
Legal compliance around employment issues is a lot to keep track of, even without all the other pressing matters on your plate. At Key HR, our account managers are highly qualified HR specialists, ready to assist with any talent acquisition or management issues you may have. This includes staying up to date on all applicable federal, state, and local laws, directives, and rules for both remote and in-person hiring and onboarding, as well as ensuring cybersecurity, minimizing risk, and training staff and managers. Contact us today to learn more.

Posted by Blog21
On May 12, 2021
0 Comment